Global Program Digitalization – webinar with Zurich
2022 10 27, 10:00 - 11:00Webinar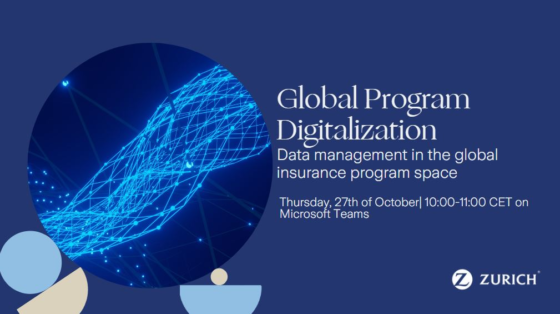 Thursday, 27th of October| 10:00-11:00 CET on Microsoft Teams
Welcome to this session that will focus on digitalization and data collaboration in the global insurance program space from both an insurer and risk management perspective.
Today Risk & Insurance Managers, Brokers and Insurers have to spend a lot of time manually collecting, managing and sharing data. What if technology could assist us in becoming more time-efficient and use the data we have more efficiently?
Today's session will focus on the benefits and impact of digitalizing data, what trends we currently see and thoughts on the future direction. We will also highlight practical examples of digitalization in the market and what we might expect to experience in the next coming years.

Jonathan Newberry, Head of Digital Experience at Zurich Commercial Insurance will lead the session and share his experience and guide us through the present and future digital insurance landscape.
Tom Richardson, Group Insurance Director at Associated British Foods plc will share his experience, being an early adaptor in embracing new digital technologies to drive efficiencies in data  and data insights.

Plats
Karta:
Karta Otillgänglig
---
Boka dig
Bokning hanteras på en extern webbplats.